Sadly the Cook and the Chef is no longer with us but they did give us one of the best lamb recipes we have come across.
Slow-Cooked Shoulder of Lamb with Red Wine Vinegar.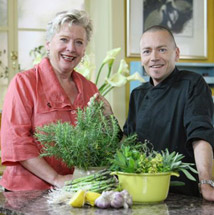 Matthew Evans from The Gourmet Farmer show produced a great program on SBS and was inspirational in a similar way to Hugh Fearnley-Whittingstall, particularly in his from paddock to plate approach and support for Farmer Markets.